I learned something yesterday. My boyfriend thinks that I look really hot in my professional attire. (I have to wear business clothes to school.) We were talking in bed one night and he mentioned that he liked when I wore my school clothes. Now, he had only seen me once in my school clothes, and that day didn't count because it was the end of the day and I looked pretty bad. He gave me a look like I was crazy and told me I looked "damn hot" and that he couldn't wait to see what I look like then when I consider myself to be looking nice.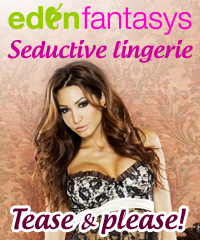 This made me think and now I want to get some
outfits
of another variety. I want to find something that looks nice and professional, but also allows me to show some skin and look
really
sexy. I was checking out
EdenFantasys.com
and found a few cute outfits, but I would like your help in picking one out before I buy it.
Ok, so a here are a few of the outfits that I liked:
Gothic Schoolgirl
I like the outfit only on this one, I would just wear the top and skirt. I wouldn't go for the whole get up.
Crisscross Halter Dress
This one is definitely one of my favorites.
Bombshell Lace up Dress
I like this one because it gives you the idea of a dress but it's obviously not and it's hot.
EdenFantasys has a lot of great choices, but that doesn't mean I can buy them all; that would become
very
expensive. So, I need your help deciding which one to buy!! I know my boyfriend would like any of them, but I don't know which one to pick. Please comment below and tell me which one I should get.