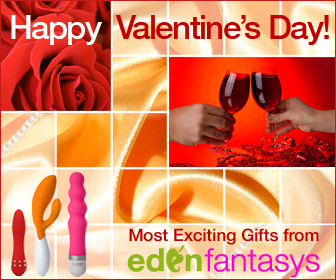 Are you ready to shop?! Eden Fantasys is having a great sale for Valentine's Day and I, for one, am going to take advantage of it for sure.

You can on save 25% on lingerie, save 30% on top luxury items (from BSM, BSwish, Evolved, Extaste, Leaf, LELO, and Zini), and save up to 25% on items from Pipedream to make your own 50 Shades of Grey fantasy come to life.

You can buy bullets up to 70% off if you are an "Eden Friend." You have to "like" the EdenFantasys Facebook page and share one of the items that are eligible for the discount. If you share one of the items, then you can get 70% off that item. If you are a friend of the person who has shared the item, you get a discount too (not 70% off but still a nice discount!) You can find more information here, but remember after you share the item, you have to click "Verify Eligibility" to get the discount. This offer ends on February 8th.

These offers ends on February 15th so if you plan on buying your sweetie something start your shopping now! I know I will be buying myself something because my man doesn't know how to shop. Do you know a man that doesn't know how to shop for sex toys for his girl? Or, if you know a man that does know how to shop, lend me your secrets on how to make my guy a better (and wanting) shopper.


And, don't forget with every purchase you get a FREE toy. To claim your free goodie, make sure you click on "Free Gifts with Any Order," pick your gift and then click "Add to Cart."


The link is located at the top of the page.