I really like shopping the Eden Fantasy site. They have a nice wide range of products, and not all of them sex toys. They also have lingerie, board games to heat up the moment, and, cute little bath sets with lotions and massage oils. Their site is clean and user friendly, which is a great thing, because who likes to turn red from embarrassment when shopping?? Not me, that's for sure. But, even on their sexual products, like the DVDs and dildos, the site manages to still look clean and pretty, allowing me to avoid the blushing.



I have heard so many wonderful things about glass toys for so long and I have been wanting to try glass for a while. So, I was very excited when my glass Ringed Rattler from Eden Fantasys came in the mail! I mean, look at this thing, it's so gorgeous.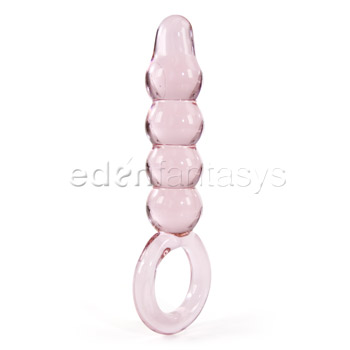 The toy is available in 2 colors- the light pink I recieved, or clear white. And, the toy is $39.99
The dildo in complete length is 6 3/4" but it's insertable length is 4 3/4".
The circumference is 3 3/4" and the diameter is 1 1/2". The toy weights only half a pound.
I love the looks, I think this baby is simple beautiful. The color is amazing and the whole design is functional yet stylish. One of the best things about glass toys: No pores to worry about! That means that cleaning this baby is super easy. No need to worry about what you can and can't use of this, it's glass so just about everything is safe. Also, because it's glass and has no pores, it doesn't pick up particles of any sort, so after a cleaning, it's safe to share.
The ring at the end makes using the toy so easy and seriously wonderful. It is honestly the best and easiest grip I have ever gotten on a toy. You're probably thinking 'but it's glass, doesn't it get slippery to hold onto?' Yes and no. It does to an extent, but the ring at the end makes it easy to keep your grip. The ring is just so functional, I don't know if I'll ever stop praising it.
As you can see from the picture, the rattle has 4 wonderful sized bumps in the shaft. Yes, they feel as amazing as you are imaging. Something else I love about glass toys: you can play with temperatures! Before you start playing, stick your glass in bucket of ice, etc,. so you can try to experience a slightly different sensation. At this point though, you might want to have a piece of cloth at hand to wrap around the ring so you don't freeze you fingers.
The packaging was simple and very easy to get into. It was just a clear plastic with a colorful cardboard insert to make it look fun.
**I received the mentioned toy free of charge in order to write a real and honest review. My opinions are 100% my own. I was not paid to post this review.**