I really like shopping the Eden Fantasy site. They have a nice wide range of products, and not all of them sex toys. They also have lingerie, board games to heat up the moment, and, cute little bath sets with lotions and massage oils. Their site is clean and user friendly, which is a great thing, because who likes to turn red from embarrassment when shopping?? Not me, that's for sure. But, even on their sexual products, like the DVDs and dildos, the site manages to still look clean and pretty, allowing me to avoid the blushing.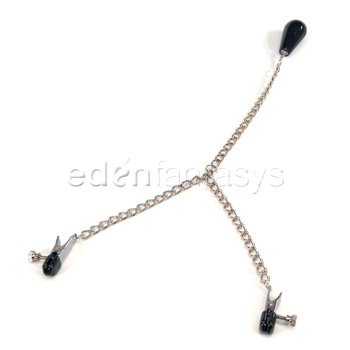 Get into sensuous bdsm excitement with the Weighted nipple clamps by California Exotic. Made out of high quality materials, these clamps have an adjustable pressure so the action can be enjoyable both by novices and experts of s&m play. The long metal chain connects the clamps to a 0.4lbs weight that pulls down the clamps so pleasantly. Enjoy the action!
description taken from here.
Ok, so I'm not into major or 'real' pain per say, but as soon as I get these babys on, I am literally and seriously dripping wet. If you cannot go for the weight on these, which does give a nice pull but personally is not enough for me, the weight can be removed very easily, there is a little clip to release the weight. Likewise, you can also get a heavier weight and clip it on for a greater pull and sting.
The clamps.. At first I had them all the way open to get used to them since I had never used clamps before. That first time I kept tightening them to the point that they were as tight as they could go. Let me tell you, AMAZING! Anymore, I don't want to go without these bad boys. Not only do they get me dripping, but I can feel the lovely pull all the way down south. The clamps are super easy to open/close/put on and also to tighten or loosen (by just twisting righty tighty or lefty loosy).
The clamps (which again you can see from the picture) have little black rubber caps on the ends. The caps can slip off easily enough in which turned in metal is now visible. I suppose one could use the clamps without the caps but I'm not saying either way.
The clamps are $15.99
**I received the mentioned toy free of charge in order to write a real and honest review. My opinions are 100% my own. I was not paid to post this review.**