I really like shopping the
Eden Fantasy
site. They have a nice wide range of products, and not all of them
sex toys
. They also have
lingerie
, board games to heat up the moment, and, cute little bath sets with lotions and massage oils. Their site is clean and user friendly, which is a great thing, because who likes to turn red from embarrassment when shopping?? Not me, that's for sure. But, even on their sexual products, like the DVDs and dildos, the site manages to still look clean and pretty, allowing me to avoid the blushing.
Are you ready to get tired of hearing me praise my new toy? Because, you will. Hear me praise my new toy, that is. Why? Because it is amazing. Or, maybe I'm just being biased. I mean, it did let me have my very first female ejaculation.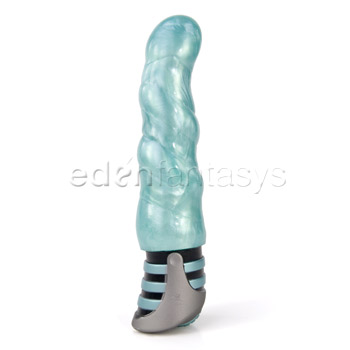 So, what is this fabulous toy? None other than the
Night Moves Embrace
! The Embrace is made from a gorgeous teal colored jelly like material. It is very smooth and is firm yet somewhat squishy. The jelly material
can not
be sterilized, however, so make sure you do not boil it! Becuase the toy cannot be sterilized, sharing is a no-no, unless you use a condom over the toy, then it is safe. Since you can't boil the toy, how are you to clean it? Just use some toy cleaner and some warm water. Do not use any strong soaps and try to store it in a cool and dark place. This is recommended. Lubes that can safely work with the jelly: water based and silicone lubes.
The Embrace takes 2 AA batteries to power up. The batteries are easy to slip in and you turn the vibe on with a dial base. The toy has a bending feature that allows it to move. The only thing with this is that you cannot bend it and know it will stay in that position, because it won't. The toy moves, but doesn't want to stay in any bent position. It is a multispeed toy, so it does have more than one setting (not counting on and off!)
The vibrations (to me) are not very strong at all. I can feel them, but they just aren't that powerful. That said, they were powerful enough to do it's job. What made the different, I think, between this toy and the other g-spot vibes I have, is the head of it. The Embrace has a 1 1/2 inch diameter and is insertable up to 6 inches (although it is 8 inches long in total) so, it has a maxium percentage of being able to hit your G-Spot. The head is angled just slightly, but that slight bit really made the difference for me.
And, for only $25, I'm going to recommending this baby to everyone I know. I know some sex toys are damn expensive, and when you do find an afforable one, you wonder about the real quality of it. This is a good quality toy. This is also a great price.
The packaging was simple, yet packaged in a way it would not get damaged during shipping. (Shipping, as always, was discrete.) The toy comes in a clear plastic cylinder with the name "Night Moves" and "Embrace" on the sides.
Now for the cons of this toy:



The material attracts and picks up hair, lint, etc. So, it's a bit more difficult to keep clean that your other toys.




The dial is a bit tricky. I'm still figuring it out... It looks simple with one direction saying "ON" & the other saying "OFF" however, rolling it to on, it sometimes doesn't go until I press down, and even then.. So, figuring that one out.




The toy doesn't stay bent in the postion you would like it to stay in.
That's about it. I love this little guy. He is definetly my new GO-TO toy.
I give him a
9/10
he looses a point because he does a couple cons listed, in reality, I find him closer to a 91/2 out of 10 ; )
**I did not get paid for this review. Eden Fantasys sponsored the review and sent me the Night Moves Embrace free of charge in exchange for my review posted at Never Too Shy Reviews. All opinions are 100% my own unless otherwise stated.**