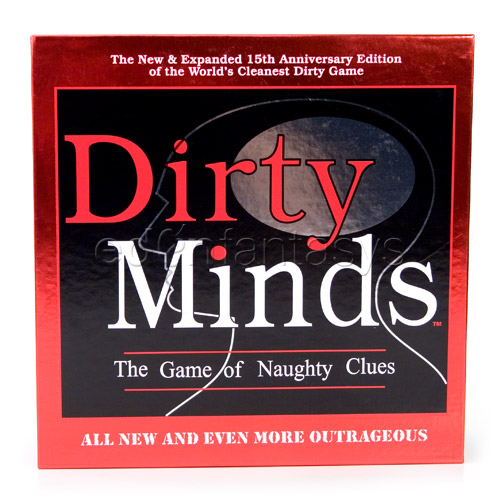 Newly revised and expanded, the 15th anniversary edition of the world's cleanest dirty game is here to get your party started. Hate it when someone reads something dirty into everything you say? Well then Dirty Minds is the game for you. The dirtier your mind is, the worse you will be at playing this game. With over 906 naughty clues and 302 possible clean answers, you'll wrack your brain trying to come up with a non-dirty answer to some of the following clues; "I get laid in an alley," "I often end up in the middle of your split," "When your fingers slip inside of me, I'm ready to go." If your answer wasn't bowling ball, then you have a dirty mind. Providing laughter for two or more adults, Dirty Minds offers hours of laughter and fun as "seemingly filthy clues point toward the most innocent answers."
description taken from here.
Ok, so the
Dirty Minds
game can be played with 2 or more players. Personally, I think the more people that are playing, the bigger the laughs and the funner the game is. This is a board game, so even though there is still a great deal of laughter and minds in the gutter, it is still a game that makes you pay attention just a bit.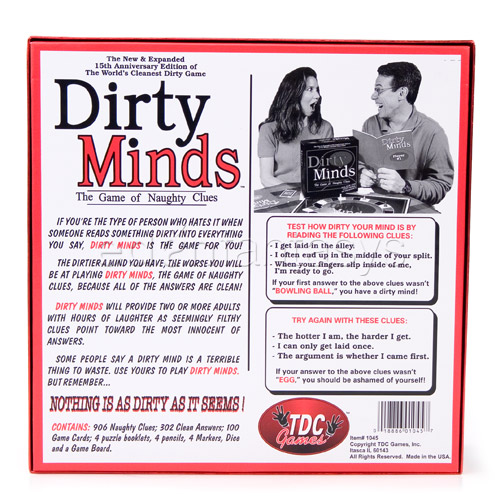 You probably cannot read the writing on the picture to the right (which a picture of the back of the game box) so I'm going to type some of it out for you. (Although you could also click on the picture to enlarge it as well.)
Here are some game clues mentioned on the back of the box:
-The hotter I am, the harder I get.
-I can only get laid once.
-The argument is whether I came first.
Is your mind is the gutter yet? While images and dirty thoughts were probably floating around your head, I bet you didn't think "egg". Well, egg is the answer so get your mind out of the gutter!
This game is a blast! It comes with 100 Game Cards, 4 Puzzle booklets, 4 Pencils, 4 Markers, Dice, and the Game board. Does this mean that only up to 4 people can play? No, you can always play in groups with more than 4 people.
Eden Fantasys
suggests that the game can be played at a Wedding party, Birthday party, Bachelorette party, or a Bachelor party. Those are good suggestions and all, but I think this game is great for a night in with the girls (or guys)!
You can purchase your own Dirty Minds board game
here
at Eden Fantasys for $25.99 + S&H
**I was not paid for this post. I received a free game in order to review it. All opinions are 100% my own unless otherwise stated.**