I really like shopping the
Eden Fantasy
site. They have a nice wide range of products, and not all of them sex toys. They also have lingerie, board games to heat up the moment, and, cute little bath sets with lotions and
massage oils
. Their site is clean and user friendly, which is a great thing, because who likes to turn red from embarrassment when shopping?? Not me, that's for sure. But, even on their
sexual products
, like the DVDs and dildos, the site manages to still look clean and pretty, allowing me to avoid the blushing.
I received the
Hathor Aphrodisia sensual love lotion
to review.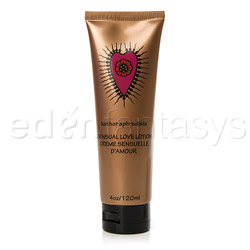 This aromatic moisturizing lotion will add more allure to your appearance as it contains aphrodisiac herbal extracts and essential oils. All natural it is easily absorbed by skin and will make your skin soft and smooth.
description taken from here.
The lotion is $24.99 for a (one size only) 4 fl. oz. tube. It is
L-Arginine free, Petro-chemicals free, and Paraben free. The lotion is not very thick, instead leaning towards runny. That is not to say that it is runny, but it is very close to it. I personally prefer a bit thicker of a lotion, almost like a body butter for my skin.
It does have a wonderful scent. In the bottle, when I first opened it to take a 'wiff, I was 'ohh, that's over powering'. However, I put some on anyways, and really, once you rub it in the palm of your hand, the smell is already calm enough where you don't have to worry about getting a headache or anything (I don't know about you, but some really strong scents will give me a headache). Now, I can't really say what it smells like. The bottle doesn't say what the scent is and I'm having problems placing it. But, I once had an organic soap that was lemongrass scented, and that's really what it reminds me of. It's clean and lulling like the scent of lemongrass, yet it has
a slight tang to the scent. Eden Fantasys website says the "Flavor" is assorted. DO NOT TASTE IT! This is not for tasting or "eating" purposes. Trust me, it's gross. This is just a body lotion, not a special lube, or anything like that. It is just a body lotion that is on a sexual website with "aphrodisiac properties".
When I wear this lotion, people compliment me on the way I smell. But, I wouldn't buy this lotion once I run out. Not for $25 anyway. I think that is way too high for a non designer named brand lotion.
Bottom Line: Love the lotion, hate the price.
**Thanks to Eden Fantasys who supplied the review item to me free of charge in exchange for my honest review. I was not paid for posting this.**