I really like shopping the Eden Fantasy site. They have a nice wide range of products, and not all of them sex toys. They also have lingerie, board games to heat up the moment, and, cute little bath sets with lotions and massage oils. Their site is clean and user friendly, which is a great thing, because who likes to turn red from embarrassment when shopping?? Not me, that's for sure. But, even on their sexual products, like the DVDs and dildos, the site manages to still look clean and pretty, allowing me to avoid the blushing.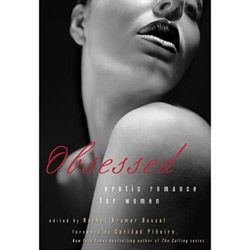 Experience the Heights of Passion and the Depths of Desire
We've all been there—so taken by a lover that you just can't stop thinking about him. Your imagination runs wild, fueling your fantasies. You feel hot, feverish, out of control. Your only hope of release is to possess and be possessed. In Obsessed: Erotic Romance for Women, Rachel Kramer Bussel has curated a gloriously explicit collection of riveting romance with an edge. Whether just-blooming passions, rekindled sparks, or reinvented relationships, these lovers put the object of their obsession first. From the almost-divorced couple in "Aftershocks," by Bella Andre, who finally confess their deepest desires during an earthquake to a woman who tells her boyfriend just how much she lusts after another man in Emerald's "Then," these lovers push the boundaries of their trust, and are rewarded for taking those risks. Obsessed lovers don't always do what is rational; sometimes they chase their dreams, as in Kayla Perrin's "One Night in Paris," across the world and across the landscape of their lovers' bodies. Lustful and literary, Obsessed asks just how far you'll go for the man you love.
description taken from back blurb.
Obsessed
is $14.95 and has 216 pages of reading material (Eden lists the book at 240 pages but the last page numbers at 223 - this is without the introduction pages and clips of other books at the end of Obsessed). It is a trade paperback (which means the bigger ones!).
There are 19 short stories, ranging from 8 - 16 pages.
I have to say, I love to read and own oodles of books in the Erotica genre. Some of the stories in
Obsessed
were not very erotic as far as erotica books go (or some plain ol' romance books either), and some of the others were wonderful reads. The same goes for character development and story lines, some are good, some great, and some I would skip over entirely.
Characters
- They did not have any great development. I can argue that this is because the stories are so short that the author is obligated to "get to the good part" being that their story is so short. However, numerous English instructors and authors as well will argue that either way, to have a good story is to have good character chemistry and for the reader to be able to connect with the characters (which means that the characters need to have a good development).
The "good" stories
- The better stories had the said character development. They allowed a better connection between the characters and made it feel more like a scene taken out of a full length book, rather than a bit of story written point blank. (If that makes any sense to you. If not, I shall go on a rant in the next mini-paragraph explaining it, so skip over it if you so wish).
What I mean when I say that it feels like a scene has been taken out of a book, is that (and you have to read enough to understand how the development of characters grow into one another, allowing them to be connected, to mesh and mingle) the characters have that connection to one another. The characters have good chemistry. EXAMPLE: [scene from book scenario] Sue and Mike are neighbors who have always fought because of Mike's awful front yard, yet they have both had this attraction for one another. Over the past week, it has become more heated in their arguments, but the attraction has also become more heated. ~ ok- so you can see how the build up allows the characters to connect, to intermingle and become better connected. This is what I mean when I say that a single anthology has the feeling of a scene plucked from a full length book- it has that connection, that feeling of buildup, and it is generally a better read! EXAMPLE: Here is Sue. Here is Mike. They have an attraction to one another. Mike comes over, pounds on Sue's door until she opens it and then Mike kisses the living hell out of Sue until they make it to her couch. ~ ok- they have no character development. I see two characters who are completely separated and hold no bond. This leaves me disinterested.
Now, which story would you rather read? The one that feels like a scene taken out of a story? Or one that feels like it was written point blank?
The "bad" stories:
The not-go-great stories have bad/little/or no character development whatsoever, and they had no chemistry between the characters. The tone used in the writings were awful, it felt like the story was being ripped from the author, like it was forced, with no care devoted into the story. And, like most bad stories, the plots were not up to par. This was because (A) there was not a plot at all, just a sex scene with two people that had names, (B)
the plot was not throught out and under developed, and/or (C) again, it felt like the author(s) didn't care about their writing.
Overall, the book is ok, but I wouldn't I would spend $15 on it.
**I received this item in order to write a real and honest review. I was not paid to paid to write this review. All thoughts and opinions are 100% my own.**