Eden Fantasys
carries a huge variety of adult products.
Dildos
,
vibrators
, sexy little
outfits
, lubes, and so much more. I just posted about their new Point Program in which you can earn gift cards for just being an active member of their site. For example, if you comment on a review, you get a point, and those points add up to money on their site. You can read my whole post
here
for more info.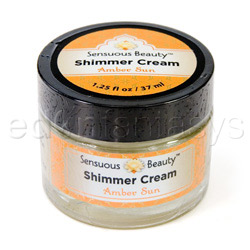 I was super excited when
Eden Fantasys
allowed me to review their Sensuous Beauty
Shimmer Cream
. The cream comes in two different scents, Amber Sun and Violet Moon. I received the Amber Moon to review.
The Shimmer Cream comes in a 1.25 fl oz (37 ml) glass jar container and is $22.99. Just from the numbers of the product, I would think it wouldn't be worth the cost, but 1.25 fl oz is more than I thought.
The cream is buttery soft texture, as well as in color. It has flecks of tiny gold glittery pieces that when it catches the sun, looks gorgeous! It smells awesome too! The first time I put the cream on (I wore it like a lotion on my arms) my best friend (RomanceJunkie) was like, 'what is that? you smell so good!'
I have another glitter cream (which I bought at a different store) that has glitter galore in it. It makes me feel like one of those lame vampires in a Twilight movie I sparkle so much. But,
Eden Fantasys
shimmer cream has just the right amount of glitter in it. The specks are so fine that it gives you just a hint of a little extra something, and it isn't loaded down so it's beautiful instead of obnoxious.
I really like this stuff, however, I personally would not buy another jar of it because I think the price is still too high for the amount you recieve. When asked, my friend said she thought that the jar cost around $12, when I told her, she gasped and said, "I would
so
not pay that much!" The texture of the product is super buttery soft, which I didn't expect at first by looking at it, but you have to be very generous when applying.
The cream is made with: organic sunflower oil, distilled water, beeswax, shea butter, premuim amber, Vitamin E, graprefruit seed extract, gold cosemetic sparkles and carrot oil.
**I did not get paid for this post. I recieved a free jar of Shimmer Cream from Eden Fantasy in order to write a real and hinest review. All opinions are 100% my own unless otherwise stated.**